AdPR's Executive Advisory Council participated in a panel, "Being Job Ready" to provide advice to AdPR juniors and seniors as they plan for their future beyond graduation. Topics covered included, 1) resume writing – how to stand out among the rest, 2) interviewing – how to put your best foot forward, 3) leadership – once you have the job, how do you rise to the top, and 4) work/life balance – how to transition from balance to "blend" in today's digital environment.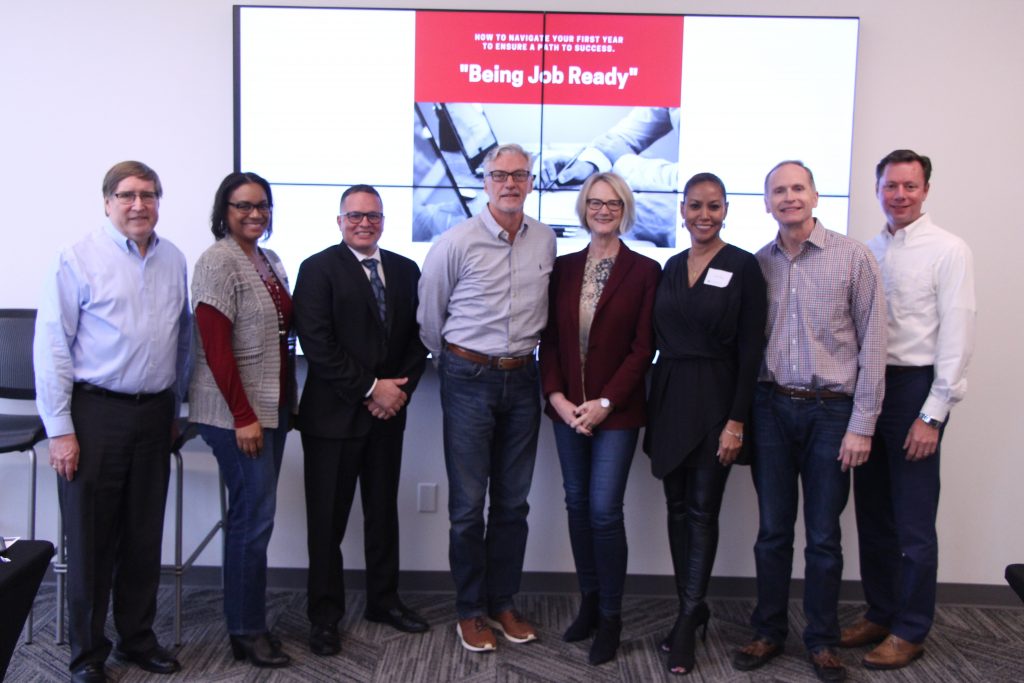 Top ten pieces of advice:
"Share your work, don't be shy." Your resume should explain how you succeeded as a student, in your past roles in student clubs, organizations, internships or extracurricular activities. Potential employers want to see how you made a difference and contributed to a group. Include links to your website and/or your work to show your experience and expertise.
"Have several versions of your resume." Most importantly, always have a text only, traditional format for submitting online. Many first cuts are made by a computer. Graphics and creative formats can cause a resume to be rejected before its ever seen by a hiring manager.
"Your interview begins the moment you park your car." Your interview isn't simply the formal exchange. The way you carry yourself and interact with everyone you come in contact with from the moment you set foot on the company's campus to when you leave is part of the interview.
"Relax, let your genuine self shine through." Companies are looking for a good fit on a personal level as well as a good skill set. This can be hard, but the more you are prepared to have a relaxed conversation instead of simply answering straight forward questions, the greater the chance you shine above the rest.
"Look for ways to distinguish yourself instead of extinguish yourself." Leadership is about knowing how to create value. Have a clear understanding of your boss's expectations and then not only meet but exceed them. Individual success is important, but you must also strive to add value to your department/team.
"Be a radiator, not a drain." Be positive, establish a good work ethic, and "be a hand raiser".
"Bring solutions to a problem." It is inevitable, there will always be problems arise. It is not enough to simply identify challenges, you must bring solutions to the table. It demonstrates that you have a clear understanding of the hurdle, and that you have given thoughtful consideration towards a solution – that is leadership.
"Who you work with is just as important as what you do." It is important to know that it is okay to be selective when accepting a job. If you are not passionate about what you do and who you work with, success will be a challenge.
"College is 'me' time, a full-time job becomes 'we' time." Being a team player and making your boss, as well as your department/team, "look good" only helps you in the long run. Be a contributor, you will succeed.
"Set boundaries for yourself." Setting boundaries to ensure you have a successful work/life blend is imperative. Boundaries can be flexible based on the circumstance, but make sure you still take time to do things outside of work that are fulfilling.
These tips for being job ready are from some of the industry's best and are pertinent for anyone involved in a job search. At the end of the day always remember "you should be interviewing a potential employer as much as they are interviewing you". A successful career begins with a good fit for both employer and employee.