We are so proud of Jessica Story, one of this year's ADPR Department interns, for being showcased on Grady Grit. She adds value and dedication to everything she does and we look forward to seeing where her accomplishments take her.
Here's the post from Grady college: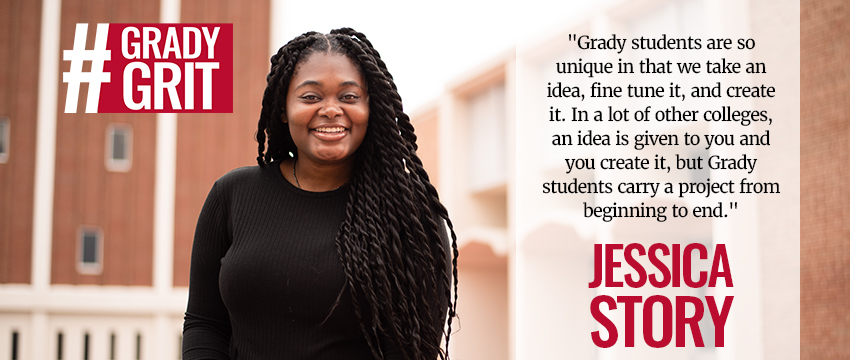 Why did you choose Grady??
I chose Grady simply because I didn't see myself in any other college on campus. From a young age, I had a good grasp on the things I was good at and the things that I just wasn't. I have always been interested in the world of communication through writing and speaking. Those were two things I was passionate about and two things I knew that I would need to do for the rest of my life.
What is your most memorable Grady experience??
My most memorable experiences in Grady were definitely hyperventilating in Tom Cullen's PR Communications class. That class really stressed me out at the time, but proved to be one of the most important classes for my future career in Public Relations.
What is the best piece of advice you've received from an instructor/mentor/family member??
Your gifts will make room for you. My mom always told me this when I was a kid. When choosing a major, I was so unsure of what major would work for me because I felt I was only good at writing. My mom always told me if writing is what you are good at, work with that and you will find a room where it will be uplifted and supported.
We know you started a student-run advertising/public relations agency called Paw Print to help local nonprofits. What made you decide to start it??
I decided to start Paw Print Agency because I saw a need in our community. There are so many nonprofits in our community who are the backbone of Athens. It is important that their voices are heard, so their work can be supported.
How did you go about starting Paw Print Agency?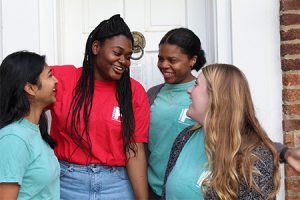 I was telling my friend Abby Hellmann about a class I was taking where I had to meet with the director of a nonprofit called Bethel Haven in order to provide her with PR services. At the end of the conversation, I kind of joked that we should start a club and help a bunch of nonprofits in the Athens area. Abby stopped laughing and said we actually should, so we began planning and organizing what the organization would look like. Two weeks later, Paw Print was born.
How do you think Grady students are unique compared to other majors on campus??
Grady students are so unique in that we take an idea, fine tune it, and create it. In a lot of other colleges, an idea is given to you and you create it, or maybe it's your job to come up with an idea and someone else creates it, but Grady students carry a project from beginning to end. This helps us in the workforce to be able to think outside of the box and learn all aspects of making an idea, a design, or a film come to life. We are the definition of thinkers and doers.
What does Grady mean to you??
Grady means challenge. In each and every one of my classes I am challenged in all that I do. I am challenged by my professors to think outside of the box. I am challenged by my classmates to ensure I am being the best team member I can be. I am challenged by myself to create the best possible piece of work I can. 
How have you prepared for the shift to online classes?
I have slowly prepared for the shift to online classes. I have made sure to begin to set a schedule, so I know the mornings I will need to wake up early, and the days I can sleep in. I have also taken notes on the changes to assignment due dates my teachers have sent me. All in all, it is important for me to be organized and fully aware of what is going on in all of my classes. 
What has Grady done to make the transition to online learning easier for you?
This is such a difficult time and it can lead to a lot of confusion, but Grady has been so communicative during this time which has been extremely helpful. I know exactly how the class will operate for all of my Grady classes and what the rest of the semester will look like. Grady has also encouraged us to simply be kind humans throughout this process. Dean Davis' couch updates and emails have been such a joy to read and watch, and Dr. Russell's tweets have kept me entertained during this time and the Grady community at large is always a constant resource.
What will you miss most about being at Grady every day?
There is so much I will miss about being at Grady. The thing I will miss most is simply walking around Grady to get to class or to meet up with classmates as each floor holds a special memory for me.
Who is your professional hero??
I don't have a specific professional hero, but I really admire anyone who works in crisis management. These are the individuals who have the power to restructure the way the public responds to a situation, and there is some heavy responsibility in that.
What is you favorite quote??
"Just keep swimming." –Dori 
Editor: MG Coffee, mg.coffee@uga.edu